Nostalgia of time fondles the memory of the Jews of Egypt
By; Nabil Sharaf El Din
http://www.elaph.com/ElaphWeb/Politics/2005/12/114785.htm In Arabic
Commentary on the article coments_on_the_jews_of_egyp.htm
Thursday December 22, 2005
This article was translated By; Mr. Timothy Abraham exclusively for the Historical Society of Jews From Egypt (HSJE)
Nostalgia of time fondles the memory of the Jews of Egypt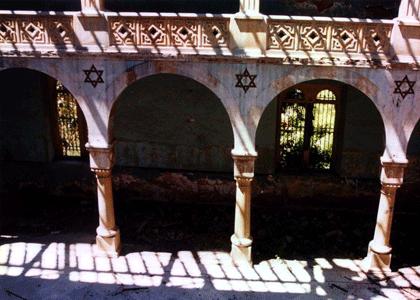 Jewish Temple
One can safely say that Egyptian Jews are such an exceptional, special case inside Israel. This is probably the only sect in Israel whose members are, by and large, bound by profound longing to their motherland, Egypt. Concurrently, there are still people in Egypt who would defend them and affirm that expelling them or making life harder for them on the part of the Officer Movement then was a dire mistake in that they did not present actual danger to either society or the state. Far from being strangers or aliens, they were a community original to the pure fabric of society, that is, full-blooded Egyptians. There was no point, therefore, in joining their destiny with that of certain individuals who were accused of sponsoring hostile activities.
For centuries, the Jews of Egypt lived in a climate of real tolerance so much so that they came to be the richest and more stable Jewish community in the world. They were closely knit together with their own society in Egypt. As such, they did not deal with persecution crisis as it was the case of the Jews of Europe, thus adding to the culture, arts, and economy of the nation. Qattawi Pasha was so heavily involved in political life that he became a minister of interior, then a minister of transportation after 1919 Revolution. He continued to be a member of the House of Representatives till he passed away. His wife Alice Sawari was the maid of honor of Queen Nazla, King Farouk's mother. Qatawi Pasha was not the exception since there are prominent names such as Felix, Henri Mosseri, Harari families, Adas, Qatawi, Adat, Sawares, Menasheh, Rollo, Sarsaqa, Samouhah, Cicurel, and many other well-established big Egyptian Jewish families.
Sharon, Murderer of Children
Immigration of Jews out of Egypt is documented statistically, recording the period of 1948 post war until 1952. As long as Egypt was a royal monarchy, it kept good, friendly relations with the Jewish citizen. This continued till the July Movement when President Mohamed Naguib paid the Karaite temple of Abbasia a visit on 25 October 1952 and gave his kind wishes to them for Kippur's Day. His greetings are still kept in the guest book of the Jewish temple of Abbasia till today. But as President Naguib got marginalized and kept under house arrest and Nasser's takeover, things went the opposite direction.
As a number of the Egyptian Jews in Israel harbor feelings of anger towards their homeland, they still miss their country because, as previously said, they were not a foreign community of expatriates or an ethnic minority but an integral part of the fabric of Egyptian society. This can be seen in their light-heartedness, good sense of humor, generosity and hospitality. Right before the rise of the state of Israel, there was a natural climate of tolerance and amiability prevailing amongst Muslims, Copts, and Jews. They went to one another's weddings and shared their sorrows in funerals, gave one another kind wishes in religious feasts and holidays, spending the nights listening to Om Kolthoum and getting laughs here and there from Rihani plays. For good measure, the Egyptian Jews insist that they are different from other Jews who made it to Israel. Carmen Weinstein, president of the Egyptian Community in Egypt, for instance, stated, more than once, that the community has nothing to do with Israel whatsoever. She often denounced the policy of Sharon and said, "He is an evil man and a murderer of children". She even refused receiving his envoy in Egypt.
The president of the Egyptian Community in Egypt has asserted that she would not allow any of the Egyptian Jews to sue or ask for a compensation of the property of the Jews in Egypt that was confiscated during the rule of late president Nasser. She said, "Whoever has rights and possesses documents on property is welcome to go to the Egyptian court", thus affirming her confidence in that system. As she spoke to Elaph electronic paper, she said, "We are an Egyptian Jewish community and not Israeli. Judaism is a religion but Israel is a nationality and we have no tie whatsoever to Israel. Half a century ago we refused to immigrate to Israel, and we still do today".
Missing Home Electronically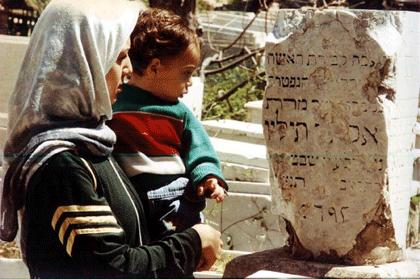 (Jewish Tomb)
It was by accident that I discovered the website of the "Historical society of Jews from Egypt" www.hsje.org where one could browse a large number of letters exchanged between the Jews of Egypt all over the world. Some of it holds sweet memories stored in the memory of first generation immigrants. Other letters contained appeals to the Egyptian government in order that the Administration of Archeology may release the property of Jewish families. Some letters wondered about the news of some classmates, work colleagues, club friends, people in the neighborhood, and many greetings to this and that street, street pavements and grave sites. Even though it has been 50 years since they departed, they still miss the Nile fresh breeze with the sun setting which evoked many sweet memories to be savored. Hence that site which brought them together in order to reminisce the good old days.
The website of the "Historical Society of Jews from Egypt" blames the Officers' Movement of July 1952 for issuing a decree mandating their immigration out of Egypt. After 1956 war, Egyptian security authorities arrested some Jews and accused them of vandalizing public places and ordered that Jews be evacuated and deported. Historical records show that up till 1956, Egypt had about 42,000 Jews. A study conducted by Neeman Institute on some American Jews of Egyptian origin, 501 individuals, provided fascinating results in that the majority of these people did not hold Egypt or the Egyptian people responsible for leaving Egypt, nor did they say any words of bitterness or grudge towards the Egyptian society. In fact, even as several decades have gone by, some of the Egyptian Jews still keep their Egyptian dialect that their own children amazingly still kept in spite of being born outside Egypt. One can chuckle hearing them throwing in an Egyptian saying here and there, still observing Egyptian traditions and customs, and never lost their characteristic Egyptian sense of humor. They never forgot that they are Egyptians and they do not love their country any less than Muslims or Copts.
A Jewish researcher has prepared a study in 1947 which revealed that they counted up to 65,641. This meant that for every 1000 non-Jews, there were 3 Jews. Until the 19th century, they lived in "Haret El Yahood" i.e. the Jewish quarter which was located in between Gamalya area and Moski. As their numbers increased, they moved to such quarters as Al-Zaher, Al-Darb el-Ahmar, Al-Abbasia, Abdin, Al-Azbakya, Bab al-She`aryah and Masr el-Gedidah. In Alexandria, they could be found initially in Gomrok square but later they moved to Moharam Bek, Manshya, Al-Attarin, Bab Sharq and some others in addition to Domyat, Port Said, Tanta, Mansoura and even Upper Egypt as they reached up to 1362 in 1917.
Theater
Egyptians got to know about theater through Yacoub Sanoo`a, also nicknamed "Abu-nadhara" i.e. the man with the glasses. He was a poet writer, producer, musician, and Egyptian Jewish journalist. He was born in Bab Al-She`areyya quarter in 1839 and master a number of languages and worked as a teacher in Arts and Industries School until he made a theater out of Azbakeya garden for his group in 1870. He continued to offer comic and tragic plays such as "Al Alil", "Al-Sadaqa", "Al-Borgoizee", " Borsset Masr", "Al Amira Al Iskandaraneyah". Yacoub Sannoo`a was so highly appreciated by Khedivi Ismail that he called him "Egypt's Moliere" and invited him to offer some of his plays in his own theater in the palace.
There is also Nagwa Salem, the actress, whose real name is Ninat Shalom who became so luminous in Rihani Group. Her talent reached as far as other theater groups at the time and she became a heroine in a number of movies. She was married for some time to Abdel Fatah Al Baroudi the journalist and was given an accolade by the late president Sadat in addition to a lifelong exceptional pension until she passed away in 1988.
Cinema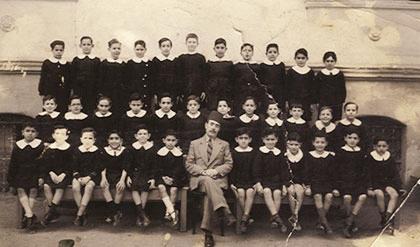 (Jews of Egypt)
In the cinema, one cannot forget the prominent name of Togo Mizrahi who is a major founder of this art. He brought in the cinema industry into Egypt as well as the Middle East with his popular statement, "Nobody can enter the cinema for free". With the assistance of Gawzy Film Company, Mizrahi was able to own as well as run tens of the movie theaters in Cairo, Alexandria, Port Said and Suez. Mizrahi practiced all the cinematic functions such as acting, production and others where he can be seen as an actor in Cocaine movie in 1930, Five Thousand And One movie in 1932 under the penname of Ahmad Michriqi. Last of Mizrahi's movies was Sallamah which was done in 1947 for Om Kolthoum.
There is also the famous movie star Raqya Ibrahim whose real name is Rachel Abraham Levi whose fame reached its peak in the forties and the fifties. Her star fell after she was the heroine in a Tawfik Al Hakim play entitled "ser al-montahera" i.e. secret of the suicide lady in 1938. Then she married Mostafa Wali the engineer till she left Egypt in 1956 for the US where she got settled till she passed away.
In the twenties, the Jewish comedy actor Elias Moadab took part in many of the comedy movies with his Shami accent that ushered into the world of comedy people like Ismael Yasin and others. It got stuck in people's head that he was Syrian or Lebanese or something like that when in reality he was full-fledged Egyptian who lived in Firakh i.e. chicken street in the Jewish quarter ( Haret al Yahood ).
Singing
In singing, Laila Mourad's star shone forth. She was born in Al Zaher in Abbasia in February 1917 to a Jewish father, Ibrahim Zaki Mordachi, a famous singer and musician in the twenties, and to a Jewish Polish mother, Gamilah "Salmon" who gave birth to Mourad, Ibrahim, Malak, Mounir and Samihah. Laila was the oldest daughter and she got married to Anwar Wagdi in 1945. They got separated and got back together 3 times. In spite of all that, rumors kept harassing her all her life on account of her Jewish roots, the most dangerous of which was her donating 45,000 pounds to Israel in 1952 as Al-Ahram newspaper published a piece of news that turned out to be a lie from the correspondent in Damascus, Syria in 1952. It was said that the "Syrian government has banned the songs and movies of Laila Mourad for donating 50,000 pounds". News, then, caused a big storm and she was called in judicially and investigations declared her innocent. For good measure, she was given a certificate of appreciation from the Egyptian Armed Forces in October 1952.
Laila married the Egyptian major Mohamed Wagih Abazah, officer of the Revolution's Council of Leadership. He is a descendant of the well-renowned family of Abazah. He was assigned to conduct the investigations with her, she had Ashraf by him, and later got divorced. Then she married the producer Fatin Abdul Wahab where she gave birth to her son Zaki Fattin Abdul Wahab and they were divorced in 1969.Her brother Mounir Mourad, a musician and actor, rose to fame and married Sohair Al Babli, the actress, and spent the rest of his short life estranged and lonely in Paris.
Lastly, on December 1st, every year, Egypt still celebrates the memory of the Egyptian Jewish singer Dawood Hosni whose real name is David Haim Levi. He is major contributor as a singer and musician in Egyptian singing in such a way that any student of the history of the development of singing in Egypt would have to truthfully acknowledge.