Born in Cairo in 1916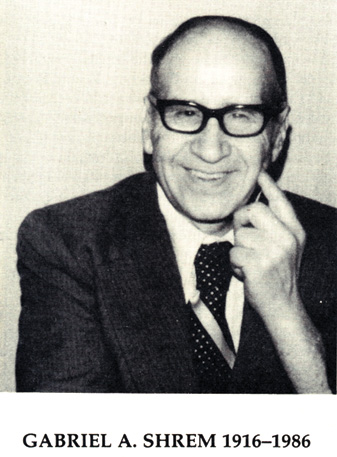 Gabriel A. Shrem immigrated to the United States in 1930. During these few years he lived with his maternal uncle, Abraham Chehebar (father to Gabriel Chehebar), who raised him and taught him pizmonim and Hazzanut.
Upon his arrival to New York, he quickly moved down south to join his family in business temporarily settling in Macon, Georgia, where he married Rachel Shrem. In 1941, Gabriel and his family permanently moved to Bensonhurst in Brooklyn, New York. He was offered the position of Cantor at the Betesh Synagogue ("Knis Betesh"), and several years later, in 1945, he began his tenure at Magen David of 67th Street, where he faithfully served until 1963 as their senior cantor.
In the 1950s, Gabriel teamed up with Mr. Sam Catton of the Sephardic Heritage Foundation to publish the community's first Pizmonim book, "Shir Ushbaha Hallel VeZimrah," and several years later he edited a daily prayer book "Bet Yosef Ohel Abraham Gabriel."
In 1963, he was offered a position to serve as cantor at Congregation B'nai Yosef, formally called Magen David (originally located on East 4th Street and Quentin Road), where he served until his passing. In the mid to late 1970s, Gabriel accepted a position of Professor of Sephardic Hazzanut in the Cantorial Training Institute of Yeshiva University, where he taught classes every Monday night for 4 years.
Mr. Shrem passed on August 22, 1986, while on a trip to Israel. He was buried on Mount Olives in Jerusalem.
http://www.pizmonim.org/hazzan.php?hazzan=GShrem