Born AZIZO Passes Away At 43
45th Assembly District (Part of Kings County A/K/A Brooklyn)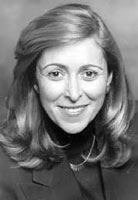 Lena Cymbrowitz, 43 daughter of Albert AZIZO and Lilianne TAWIL, the first Sephardic Jew elected to Statewide office, died Monday August 21, 2000 after a lengthy battle with cancer.
Services for Lena Cymbrowitz were held Tuesday August 22, 2000 in the morning at the Garlick Kirschenbaum funeral home on Coney Island Avenue.
Elected in 1998 to the Assembly to represent the 45th District, which includes Flatbush, Midwood, Sheepshead Bay, Manhattan Beach, Gerritson Beach, and part of Brighton Beach.
Lena sat on the Board of the Jewish Community Council of Greater Coney Island and the Holocaust Committee. She was the Treasurer of the Shorefront Jewish Community Council, and was the Chairperson of the 60th Precinct Youth Council. Lena was a member of the Kings Highway Democratic Club, a member of the Sephardic Voters League, and was associated with the Sephardic Friends of Maimonides Medical Center. She was active with the New York Association of New Americans (NYANA) and UJA/ Federation in their immigration and resettlement programs. She was the director of the Project Machson program for the Metropolitan New York Coordinating Council on Jewish Poverty, which provides food, furniture and clothing to the poor and the elderly.
Lena, has a Bachelors degree in English Literature, and was involved in fundraising and marketing prior to being elected. She and her husband Steven have two children, Jay, 19 and Jennifer, 17.
In the Assembly, Lena has been assigned to the Health, Insurance, Agriculture, Social Services, and Children and Families committees, where she addressed and fought energetically for issues that are important to her constituents.
Standing Committee Assignments 1999: Agriculture; Children and Families; Health; Insurance; Social Services.
Vote in 1998 General election:
Lena Cymbrowitz, Dem. 12,489
Theresa Caruso, Rep. 3,789; Con. 739
---