IN MEMORY OF VICTOR NAHMIAS
Victor Nahmias
Birthdate:
Birthplace: Cairo, Egypt
Died in Jerusalem, Israel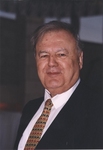 The late author and beloved media reporter, Victor Nachmias, a Jew formerly from Egypt, living in Israel, attended the Jewish Arab Writers Conference in September 2004, and contributed to its success. It was a shock to all of us to hear that a short month after, he passed away, and we all deeply mourn him.
He wrote his moving memoirs: I WAS BORN TWICE, in Arabic, to highlight both the harmony and tension between his 'old' and 'new' homeland: "Who are you, Victor Nachmias?" asks the Egyptian journalist Anis Manzour, editor of the weekly magazine "October", after they met and become close friends.

"I am a victim of the Israeli-Arab conflict," Nachmias replies. "I was forced to leave Egypt before completing my pharmacology degree at Qasr al-Eini (Cairo's famous medical school). I left with one 20-kilo suitcase of clothes and personal belongings, a total of $20 (the maximum allowance) and a certificate stamped with the words `exit, no return,' revoking the Egyptian citizenship held by my father."

Years later, when Nachmias accompanied President Yitzhak Navon to Egypt as part of the press corps, he was asked why, upon leaving Egypt, he had chosen to go to Israel. The question was accusing in tone, and Nachmias' answer was that since Egypt had no right to expel him, they also had no right to ask what made him choose Israel. However, he had warm feelings for the Egyptian people, and felt he was indeed "born twice".
He loved his new homeland, Israel, as much as he had loved his former homeland, that had ousted him and his family, and his whole community. Victor Nahmias is a model of the nobleness and inherent cultural qualities of reconciliation,harmony and an open heart, that typify the Jews from Egypt. He was a strong believer in the power of cultural bridges as a means to the promotion of peace between Israel and her neighbors. May we all learn from hi, and may he rest in peace.
Khaled Abu Toameh, THE JERUSALEM POST
Oct. 31, 2004
---
Watching al-Jazeera and other popular Arab satellite stations report live from the Knesset this week, I remembered my longtime friend and colleague Victor Nahmias, who died over the weekend at the age of 71.
Nahmias, who for many years covered Palestinian affairs for Israel's Channel 1, was one of the few Israelis who are regularly interviewed on al-Jazeera and other Arab media outlets to explain and defend Israel's actions and policies. If he were still alive, Nahmias would have undoubtedly been sitting in one of the television studios in the Knesset on Tuesday, explaining to millions of Arab viewers the repercussions of the vote on Prime Minister Ariel Sharon's disengagement plan.
But Nahmias, who became one of the most sought after Israeli analysts in the Arab media thanks to his fluent Arabic and familiarity with Arab mentality, was not there. Instead, he was replaced by many of the Arab Knesset members who doubled as politicians and political analysts.
Weeks before his sudden death, Nahmias phoned me to present me with a copy of his new book, entitled The Man Who Was Born Twice. The book tells the story of Nahmias's life from the day he was born in Egypt. He asked if I would be interested in writing about the book. I promised that as soon as I finish reading the 190-page book, I would write a brief review.
When I heard the sad news about Nahmias's death last week, I was struck by guilt because I had not finished reading his biography. Therefore I feel I have an obligation to tell the readers something about this extraordinary "Egyptian Jew" (that's how he always described himself) who, in my view, was one of the best Israeli journalists on Arab and Palestinian affairs.
During the first intifada, Nahmias would often be seen driving with a TV crew throughout the West Bank and Gaza Strip. Most Palestinians trusted him and spoke to him without suspicion or fears. In fact, his Egyptian accent and great sense of humor (for which Egyptians are famous) played to his advantage. Nahmias started covering the West Bank and Gaza Strip almost immediately after the Six Day War. In his book, he mentions an incident which took place in 1974 in Gaza City, when a hand grenade was tossed at him and his crew.
"The (Israeli) military commander of the Gaza Strip, who visited me at my hospital bed, promised me that the IDF would catch the perpetrator," he recalls. "I asked him if I could interview the man when he's caught. He asked, 'Why do you want to interview him? Do you want to beat him?' To which I replied, 'No, I want to interview him and ask him one question: How would the Palestinian cause benefit from the assassination of TV reporters who are trying to convey the Palestinian view to the Israeli public opinion?'"
In his last years, Nahmias worked hard to convey Israel's stance to a hostile Arab world. His frequent appearances on Arab stations angered many in the Arab world, who could not bear the fact that a respected Egyptian-born journalist was defending Israel. Nahmias was not angry with Egypt because it had deported him and hundreds of Jews in 1957. That year, he was ordered to leave Egypt after being given a travel document which stated: exit with no return.
In 1977, he returned to Cairo as a member of an Israeli media delegation that was invited to Egypt following former president Anwar Sadat's historic trip to Israel. In the preface to his book, Nahmias points to an encounter he had in Jerusalem with renowned Egyptian editor Anis Mansour, who served as an adviser to Sadat.
"When I introduced myself to him during Sadat's visit, Anis Mansour asked me, 'Who are you?' I told him, 'I'm a victim of the Arab-Israeli conflict which turned me from an Egyptian Jewish citizen and the son of a falah (peasant) into a refugee after the 1956 war.'" The book ends on a note of optimism: "I look back with sweet and bitter memories, but I try to remember only the good things. My main lesson from life is that we must be optimistic about a better future."
Nahmias's absence will be missed not only by many Israelis, but also by millions of Arab viewers for whom he represented in recent years the friendly face of Israel.
---
Copyright 1995-2004 The Jerusalem Post - http://www.jpost.com/